Dray 127 of J. Crew's Hamlet f Prince Harry's diary has finally gone down. She needed. I feel like I had children for whom I was less organized than this very arrival. It's fair to say that there have been a thousand or two pre-release spoilers for Speer, each of which many people have consumed without really intending to. There's something about it all happening at the turn of the year that reminds you not to eat anything but Christmas food for days and days and days. About a week after that, you find yourself exclaiming, "I don't want to see this stuff again! Can we, please, please have a china or curry?" Having said that, I still have one box of mince pies and one royal left, And I think we both know I'm going through it. It's called duty – look it up.
Anyway, on to the reaction. As I write this, Harry's entire home in Montecito is under evacuation Amidst the floods, some will no doubt choose to take it as scripture. We can only guess how the book fell into Windsor Elsinore. Some judges are of the opinion that Harry has opened a volley of literary fire on a royal family whose courtiers constantly assert that they are limited in the ways they can fight back. Maybe this is a metaphor. As one of the most striking passages in the book reveals, Prince Harry was killed during the conflict in Afghanistan 25 Taliban fighters out of his $50 million helicopter, a form of warfare that even the most committed Taliban hater among us would admit is somewhat asymmetric. Then again, the Taliban prevailed in the end, so we must definitely consider the possibility that the monarchy will be the last ones standing under the rubble when Harry's barrage ends.
But will it ever end? It's hard to say. From a Marvel franchise perspective, we could only be in phase two of Harry and Meghan. Apparently the joking option would be for all four Windsors before the Duke of Sussex in the line of succession now abdicates collectively, leaving a note for King Harry and Queen Meghan that read: "OK – you two do it. Enjoy!" Failing that, perhaps Prince Edward can lighten the patriotic mood by showing It's A Royal Knockout 2, its hotly anticipated sequel. An accidental attempt to kill the franchise in 1987.
As for the Harry book itself, it looks like a prince's egg. The real, heart-rending pain and isolation of this bereaved child mingle with the sights of a punkbuster, hammer-chewing woo-woo and palace in one volume – so much so that Harry and the ghostwriter have invented something entirely new. Genre: Tragic camp. In a minute you read some sad, unspeakable evidence of the unnecessary harm done to a troubled child; Next time you take a ridiculously deep dive into the circumcision/frostbite case of princes that might as well have been labeled It's a Royal Cockout.
Fair play with the ghost writer, who's done the best job of breaking up Prince's production since Art teacher who said she did his written A-level courses for him. I suspect got b, which is also felt here. The general atmosphere is succession, but during book strike. It must be said that there are top notes for Paul Burrell Occasionally, however, the comparison can infuriate Harry, who uses one part of the Spear to recall how horrified he was by Burrell's memoirs of life with the royal family. Just suppose that only princes are allowed to write books when they have had a great trial, and not servants.
In terms of the massive entourage of interested parties that make up the money-making royal ecosystem, Netflix, which has somehow paid You mentioned $100 million to the Sussexes and ended up with a rather dull docuseries, while CBS and Oprah scooped up the historic Interview in 2021, and Penguin Random House took on mother status with this book.
Elsewhere, a slew of bandwagon jumpers took the opportunity to chime in with each other, starting with Publicist Caroline Flack For what pets have called the Farthing Pen, which Says He was forced to evacuate from Kabul after news of Harry's murder was dropped to the Taliban. (How many times can this guy evacuate from Kabul? I hope he gets air miles.) Or consider alternatively BBC veteran Nicholas Witchell. The Witchell is arguably the second most affected creature of all. Openly hated by the family whose lives he covers so submissively, he even now seems to consider it his duty to tour various studios and speculate about the mischief done to the king whom he is literally on the camera Saying of him: "I can't stand this guy…he's so awful, he really is."
And don't forget about the legions of readers in all of this, who either love it, or love to hate it. Above all, they read it. Harry's stories have topped the ratings on the Guardian website all week, not to mention the rest of the tabloids, which raked in millions of kicks and untold millions from last week's Spare Festival. Harry wrote at one point in Spear, "I didn't care about Rupert Murdoch's politics, which were just to the right of the Taliban." I think Murdoch has more helicopters than the Taliban, whether real or figurative, so this chess piece is more likely to stay on the board.
But in the end, people decided what Harry's book says about him one way or another. But the biggest unanswered question beyond this latest tide of revelation is surely: What does it say about us? What do you say of Britain that this tattered, pain-laden piece is our first family? On an immediate level, the past week offered yet another way for the UK to look crazy, weird and chaotic on the world stage.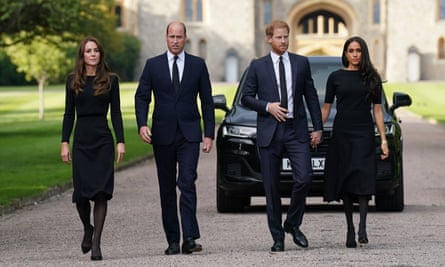 However, to the exclusion of the minority of Republicans, British public opinion seems to have divided the King and Queen, his sons and their wives, into two categories: "obviously tortured, damaged, and miserable but their whole life out of service" (well) and "obviously tortured, damaged, and miserable but He says it loud and long" (Bad). What a sad state of affairs it all seems, though it's always amusing to read disturbing comments online from people whose personal understanding of duty extends to the booze tax.
Above all, this historical epic reminds us that there is more than one way to look at this dreadful term for monarchy, "the institution." We may pity the inmates and fugitives of the institution, or be terrified of them, or turn a blind eye to the coldness and cruelty inherent in their existence. But we, at the dawn of 2023, are the part of society where the majority thinks it might be the best place for them.